Pigs & Toasters 612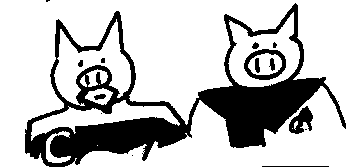 This issue of Pigs & Toasters features (among other things) the two fellows shown above as commanders of rival space stations. Also featuring: Oink Zeggpold, Kristy Shipp, another Dr. Two, and Kristy Shipp.
Study Questions
Identify the features which distinguish the panels' location. Explain their function.
Which characters appear on both station (aside from the party on B9)? Explain the significance of this.
Name the methods used by the Space Bureaucrats to prevent travellers from getting to Urth. Would they work? Are they in accord with modern Bureaucratic practice?
Find connections between the main story and subsidiary features, such as the cover and Zen Pigs' Funnies.
Identify at least five influences in three different media of this issue.
Prowf is the only DSS character who only appears on B9. Discuss. Is the fact that he is not a `swine' significant? Why not?
Find out more about the Second Berglundic Civil War. Is the story accurate in its portrayal of the Truce? Why not?
One explanation of the three Kristys is that they represent the Three Fates. Does this make sense? Why not? Who do the three Kristys really represent? Why?
Continuing the previous question, decide if the following identifications are correct or not. For those that are incorrect, decide who the character really represents. Either why, explain.

Captain Dawg, Paul Berglund.
Oink Zeggpold and Boinky; Batman and Robin.
Lt. Prowf, Rowlf the Dog (from the Muppet Show).
Dr. Bulbul Amir, Dr. Irving Matrix.
The pigs on DSS, the `Drift'.

Did D. Lin read the Berglundic Tarot cards correctly? Or were the cards, perhaps, advocating an increase in support for scholarship on Happy HollistonsTM literature?
Back to Pigs & Toasters home page, or Mark Purtill's Silly Home Page.
Copyright © 1996, 1997, 1999, 2001, 2018 Mark Purtill, web@pigsandtoasters.com.
Last modified: Sat Aug 25 21:09:08 PDT 2018